Plywood ornaments. After using the wood burning process and its various derivatives, such as plywood, every seemingly ordinary object becomes very attractive. We can mark or engrave any product available in our online store. If, however, we do not have it in our assortment, we will do our best to provide it and meet customer expectations. We also specialize in the production of gadgets made of plywood. We use the laser cutting method for its production.

We invite you to review our projects related to the process of burning in wood and cutting out of plywood

.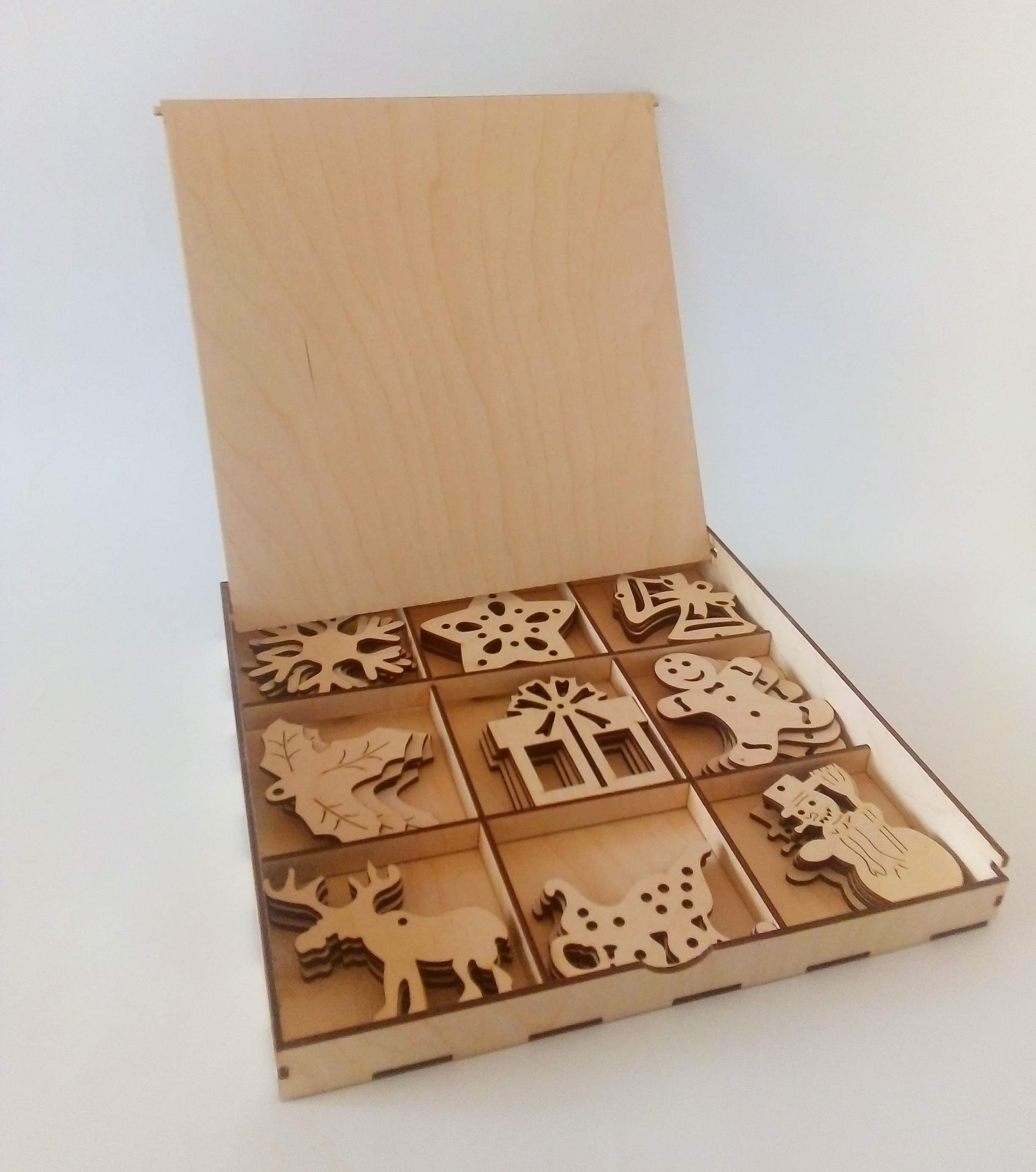 Looking for gift inspirations for loved ones, like a plywood ornaments, put on something original and at the same time practical – wooden products with the service of an individual engraving. This is always a good choice and an opportunity to make a unique, individual and personalized gift. Products made of wood will look fantastic in homes decorated in different styles. They will just as well match rustic interiors with wooden or glass elements as well as houses in a completely modern style filled with white and shades of gray. Wood is a natural material, which always introduces an element of nature, warmth and elegance to your home.
Cut out of plywood or HDF, practical decorations in the form of fridge magnets always play a practical role and also great at decorating the home interior. Individually personalized photo frames made of plywood have a magnet with which they can be attached to the fridge in the apartment are always an ideal and cheap gift idea for parents of a newborn child. Another great idea for parents is a similar magnet made of white HDF board with an individual engraving, which can also be attached to metallic surfaces. These magnets have baby's graphics. Also wheels with names made of plywood are a great base to individually make a dream catcher to hang over a baby cot. Key rings, boxes, Christmas decorations, piggy banks and many other gadgets that can be made of plywood using the laser cutting method, will be practical and cheap gadgets in your interior.
Plywood ornaments – The perfect gadget for your home
Wine boxes, plywood gadgets, wooden caskets, wooden kitchen boards, advertising key rings, Christmas decorations, kitchen utensils, wooden utensils, plywood ornaments, breakfast trays like many other wood and plywood products, become engraved with objects with individual features and extraordinary character.
Engraving logotypes, various types of inscriptions on wood, such as dedication, wishes or thanks and any graphic decorations gives the possibility of adjusting the final product to many purposes and celebrations. Products made of plywood or its derivatives are also great for using the engraving method on them.
On the surface of wood and many of its derivatives, such as plywood, but also on glass or stone, you can use the laser engraving method to make various types of decorations based on very complex graphics, among others. It can be a properly prepared graphically photo of a person or landscape.
Depending on the settings of the laser parameters, engraving can vary in power. The engraving can be done gently, surface or much more clearly and at a greater depth of gouging.
Wood and plywood – an ideal and very grateful material for engraving and laser cutting.
Each wood species has its own specific and unique properties, therefore each engraving is different. Some are better and others are worse, on one the image is very precise and clear on another slightly less-looking. It all depends on the hardness and structure of the wood and the arrangement of the rings. Sometimes even two pieces of the same wood may differ slightly in the end result and it all depends on individual characteristics such as the arrangement of the grain. Moisture content of the material, discoloration, etc. As a rule, hard wood such as beech, which has poorly differentiated grain engraved better, giving a clear and accurate drawing.
Soft wood, such as fir or pine, is easy to engrave, but because it usually has a strongly differentiated hardness of the grain, the drawing does not always look so good, then there is the effect of slightly wavy depressions. It is exactly the same with cutting, it all depends on the type of wood, its structure, natural features as discoloration and thickness.
When working with wood, we usually use 80% of the laser power. It is not recommended to use 100% of the laser power to maximize the life of the laser tube which has it limited. Like every part, it wears out and loses power over time. With hard wood species, you need to engrave slowly at a higher power to get the right effect. You can work on soft wood faster and with less power. But everything depends on the expected effec
Laser plotter – a tool that can be worked!
What we call the expected effect is a sufficient contrast between the engraved surface and not the engraved one. So you have to choose the laser operating parameters and airflow power to get the best result.
To get a darker and more expressive image you need to choose a high power laser power. Set a larger airflow on the element, reducing the number of its work speeds.
If you want to switch to laser cutting of wood or plywood, you should use, most often choose, the power should be selected according to the speed of the laser. As well as use large inflatable air to allow precise cutting of the material and prevent the material from sooting around the cuts made.
If you have questions or interest in the quote, please contact us
Address for quotes: biuro@drewpart.pl