Wooden advertising gadgets and wooden decorations with a logo – what are the benefits for your company?
Wooden decorations
Being eco is not just turning off the light when leaving the bathroom or sorting waste. Fashion for ecology has also entered the promotional activities of companies. The biggest impression is undoubtedly made of wooden advertising gadgets with an eco-style logo. The offer of ecological advertising gadgets is extremely wide, thanks to which building the image of your own brand does not have to cost you assets. It is enough to choose the right advertising products, referring to the simplicity and nature of materials, and … conscious implementation of the idea of ​​sustainable development in the company. Business promotion in the eco trend? It's simpler than you might think!
Why is it worth investing in wooden advertising gadgets?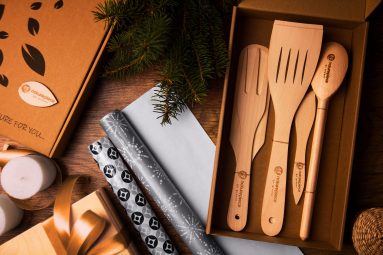 Even the largest company should not forget about its promotion activities. Despite the many advertising media available, traditional advertising gadgets are still enjoying unflagging popularity. This is primarily due to their proven effectiveness in promoting the company's image.
Wooden advertising gadgets with a logo made of wood are a nod to the environment!
Advertising gadgets made of wood are a nod to the natural environment, but also a confirmation of the high environmental awareness of the company, which is appreciated by a wide range of customers. Having wooden advertising gadgets is also much cheaper than choosing electronic or plastic advertising products. As a result, we can afford to widespread marketing materials of the company among potential customers, in the long run translating into increased sales.
In addition, wood is a material on which prints look extremely aesthetically pleasing and resistant to damage. On a bright chopping board or wooden gift box you can see a darker logo or slogan more clearly. Manufacturers of eco advertising gadgets also offer dark wood articles on which a bright company logo or short advertising slogan looks great. These types of gadgets also stand out from other advertising products, which is why they can turn out to be a hit in a given company.
Types of wooden advertising gadgets and wooden decorations
Various types of items can be affixed to the company logo, thus creating practical gadgets for customers and employees. These types of tools prove themselves as a free addition to advertising materials given out during conferences, fairs, workshops or as a gift for shoppers.
And although the most-chosen advertising products still include bamboo pens with the brand logo or elegant wooden pencil cases, statistics show that many companies, e.g. gastronomic companies willingly invest in gadgets such as salad forks, a set of wooden spoons or cutting boards, which they are ideal for marking with a company logo.
Entrepreneurs involved in the sale of children's toys also use wooden advertising gadgets to promote their brand. One of the popular suggestions are wooden blocks board games made of wood, which are not only great fun for the youngest, but also products completely safe for their health.
If you have questions or interest in the quote, please contact us
Address for quotes: biuro@drewpart.pl